He ponders, processes, and percolates on the concept that how we work, who we work for, when we work, and the workplace where it all happens has turned upside down and inside out.
Dan's career has included many specialized experiences which he draws on to help others improve their careers:
A Start in Broadcasting
In college, Dan was an on-air reporter, segment producer, and assistant news director. Several of his stories were "picked up" by the Associated Press. As host of What's Your Work Fit?, he relies heavily on the skills he developed years ago as a broadcaster.
The Agency Life
Upon graduation, Dan started a long career stint in the advertising and marketing agency space. He managed client expectations for major brands, including: American Cancer Society, American Express, Cadillac, Pepsi, 3M, and Toys R Us. During this time, Dan earned a U.S. patent for his digital marketing and targeting methodology.
Executive Search and Career Thought-Leadership
Escaping corporate life in 1998, Dan became an executive recruiter (headhunter) specializing in advertising, digital marketing, and marketing insights executive search:
Dan Smolen is a communicator and thought-leader who is nationally recognized for future of work and meaningful work live shows and podcasting.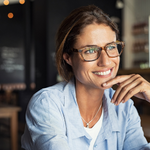 What's Your Work Fit? is the first-of-its-kind interactive engagement platform, bringing together today's business and workplace thought leaders, hiring managers, and career seekers. We will challenge the traditional notions of work and workplace, to fit who you are and what you want your lasting work and career contributions to be.
More About Dan…
A native of New Haven, Connecticut, Dan Smolen is a graduate of The Roy H. Park School of Communications at Ithaca College. He lives and works in the Washington, D.C. area.
Image credits: Dan Smolen portrait, 2018, Peter Henriquez; career professional, iStock Photo.
©2018-2023 The Dan Smolen Experience, LLC